3 Case Studies from the Facebook Marketing Experts at Alien Run
The Facebook Marketing Experts at Alien Run founded our service to solve a very specific problem for small and local business owners.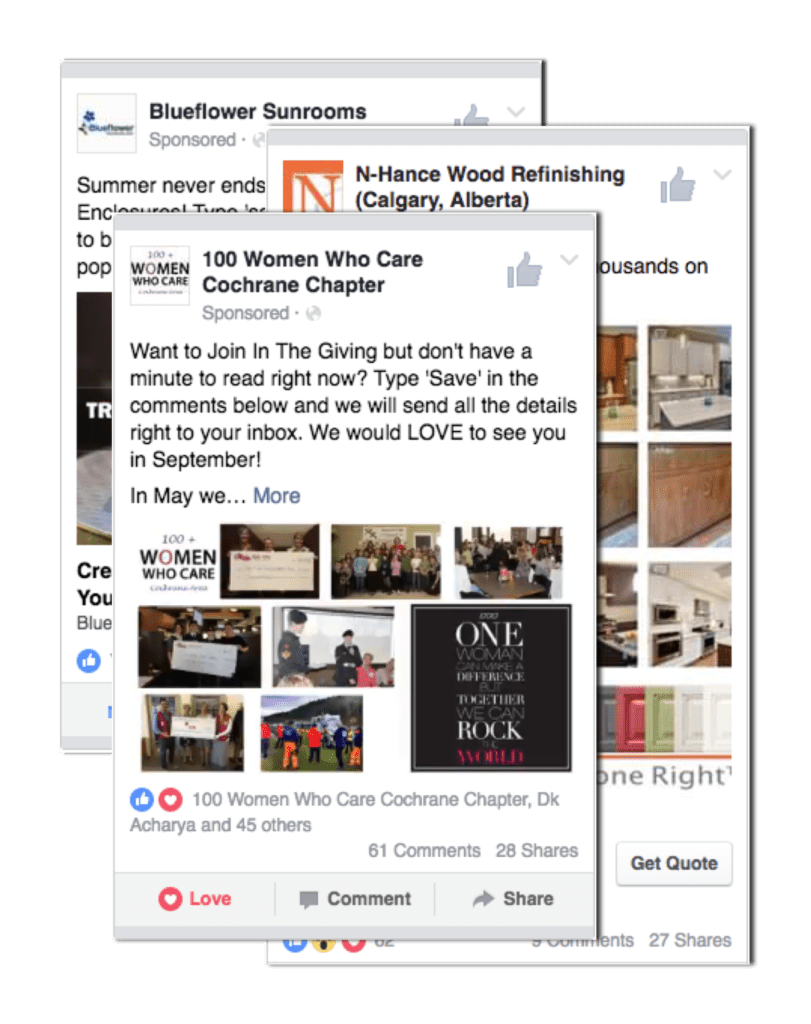 While Digital and Facebook Marketing continue to evolve and change on an almost daily basis, that original problem for business owners remains about the same.
The Problem is the majority of business owners understand they need coverage with Social Marketing but lack the time and expertise to deal with it.
Assigning the task of "Social Media" to an employee is an almost bigger problem. This generally leads to a lack of productivity without delivering an increase in interest, leads or brand awareness.
Alien Run was founded on the simple principle that we could provide a professional, results oriented, service.
We knew we could do it in a way that was more effective and less costly than any in house solution.
The key to success in small business is understanding how to get the most from your resources.
My experience has almost always proven that the more you try to do yourself, the less you are going to make.
That's why outsourcing Facebook Marketing to Alien Run is a great solution for business owners to get out of their own way.
From our start in 2014, Alien Run has evolved into a Full Service, Local Business Digital Marketing Agency. We deliver AdWords and Google Business Listing Services but our start will always be attributed to Facebook Marketing.
Facebook Marketing Expert Solutions for Small Business
Case Study #1: 100 Women Who Care
This is a great organization that raises money to help local charities and is 100% volunteer run.
We are proud to support their efforts by donating our Facebook Marketing services and Ad funding to reach as many people as possible and do a great deal of good within our local community of Cochrane, AB.
Four times per year, this incredible group of women gather to pool donations and select a deserving local charity to support. Typically donating $7000 – $8000 to each cause.
The unique aspect of working with 100 Women Who Care, is that like any Local Business, they simply need a way to tell their story to reach more people within their target demographic.
Here is a recent Video Campaign promoting an event:
Results:
Campaign Spend: $150
Reach: 3,744
Engagement: 7,370
Cost Per Engagement: $0.02
58 Comments – All Replied to instantly with our Message Bot
Analytical Data aside, the impact of the campaign on the organization tells the true story:
Mike at Alien Run Inc has been instrumental in the membership growth for our organization 100 Women Who Care Cochrane and Area. We can truly only rely on word of mouth to a certain extent and then we need to find ways to reach a greater audience. It's also increasingly more difficult to get a Facebook post to show up in newsfeed these days! Mike worked his magic on an ad for us and within a few months, our membership had increased by 14%. We had the most new members at a meeting than we ever had before by at least double and people were talking about us. This type of service is integral for any business and Mike at Alien run is the guy to trust.

-Lori T. – 100 Women Who Care
Facebook Marketing Experts For Franchise Owners
Case Study #2: N-Hance Wood Refinishing
We have worked closely with over 60 N-Hance franchise owners since 2014. Some have joined for a season to build up content on their page while many have been working with us on a month by month basis since we launched our business.
The N-Hance business model lends very well to promotion via Facebook using strong visuals and imagery.
We are able to continue telling a compelling story about N-Hance with the use of Before & After photos and videos and find that prospects continue watching and looking for an example that most resembles their own "Project"
We provide a comprehensive service to N-Hance owners that includes not just campaigns, but complete management of their Facebook accounts as well as services to paid search with AdWords Management and Google My Business Listing Management.
Here is an example of one of our Mobile Only N-Hance Video campaigns:
Mobile only campaigns have some unique options.
The first thing we take advantage of is we format the video so that it takes up as much screen space as possible.
This is just one of our tricks to stop the scrollers…
Another aspect, unique to mobile is we can make use of the Facebook Lead Ads Platform.
The graphic below illustrates the step by step Click Through process that prospects experience on their mobile device when they come through our Lead Ads sequence. It's user friendly in that we can show a lot of information and actually collect the lead without ever sending the Facebook browser off of Facebook to an external website…

Results:
These campaigns are very targeted, both at the interest and geographic level, so the audience size is limited by those constraints but this is would be true for any type of Local Business which services as geographic territory.
Click Through Rate (CTR): 2.52%
Cost Per Click (CPC): $0.73
Cost Per Lead: $27.94
The average revenue for a project with this business is in excess of $4000 so the Cost Per Lead from Facebook Ads offers a great potential Return on Investment.
Again the impact on the business itself tells more of a story than the metrics can, here is what this N-Hance franchise owner had to say about our Facebook Marketing efforts on his behalf:
It's the only advertising I do, the ads generate comments and shares and the engagement leads to more phone calls and leads.

Graham S. – N-Hance Wood Refinishing
Facebook Marketing Experts for Local Business
Case Study #3: Blueflower Sunrooms
This Case Study is a Brand New Campaign for us. We use some highly impactful strategies on all of our campaigns that are particularly effective when getting new campaigns off the ground.
Facebook Marketing Experts Strategies 
Boost Engagement with Facebook Messenger Bots
Evergreen Retargeting – Retargeting browsers who have already visited your website
Email Follow Up to Cultivate Leads
We use Facebook Messenger throughout our Ad Campaigns and set up Bots to deliver specific messages right into prospects Messenger Inboxes… We can tailor this to effectively guide browsers through our sales funnel and Facebook rewards us with lower CPC's at the same time for producing Ad Content that generates engagement…
Look for examples of this in the Ads we deliver ourselves in your Facebook Newsfeed.
Here is what our Ad Layout sequence looks like for Blueflower Sunrooms Evergreen Retargeting Strategy:

In this campaign, the numbered days listed in the graphic indicate the days since a visitor was on the website.
We retarget website visitors by educating them in stages about the various products available.
Again, photo and video is a fantastic way to display this businesses portfolio while capturing the prospects imagination. This leads to an interest for more information so they can understand the possibilities for their own project.
Retargeting can be strong or subtle, but it is very effective when browsers have already expressed enough interest to explore your website, products or offers.
The Marketing Rule of 7 states that a prospect needs to "hear" the advertiser's message at least 7 times before they'll take action to buy that product or service.
Combining Retargeting with our Email follow up is our Facebook Marketing Experts strategy to create just the right number of touch points to convert browsers and leads into customers.
Email Nurturing by the Facebook Marketing Experts – Alien Run Inc.
Our proven Email Nurturing sequence for leads and prospects always starts with this format.
A 5-7 email campaign that delivers in the first 7 days.
Intended to, Hit the Iron when it's Hot and cultivate that original interest and excitement that prospects felt when they first found you…
To experience first hand how we nurture leads by telling stories with content and promotion using follow up email, click the button below.
To learn more about putting our services to work for your business, please visit our Features Page.